So much homemade Christmas goodness popping up all over the web this week, I had a hard time narrowing down what I wanted to highlight! But, since I've been crushing hard on charcoal-grey and red as of late, I thought a collection of projects and ideas in this awesome color palette would be fun to do!
First, we have some scrumptious looking  Peppermint Bark Donuts that I'm sure not only taste fantastic but also are so pretty to look at with all that crushed candy on top! What a great treat this would make at any gathering, this holiday season.
And I'm sure if you're a regular visitor here, you remember my Free Naughty not Nice Mason Jar Chocolate Coal Gift Printables I posted about last month when our Holiday Mason Jar Craft Extravaganza was in full swing! But.. just in case you are new around these parts, be sure to check out all of the awesome Jar Crafts here!  Next, we have some perfect Christmas Chalkboard Printables, that are sure to make any space a little more festive!  To snatch them up, click here and here!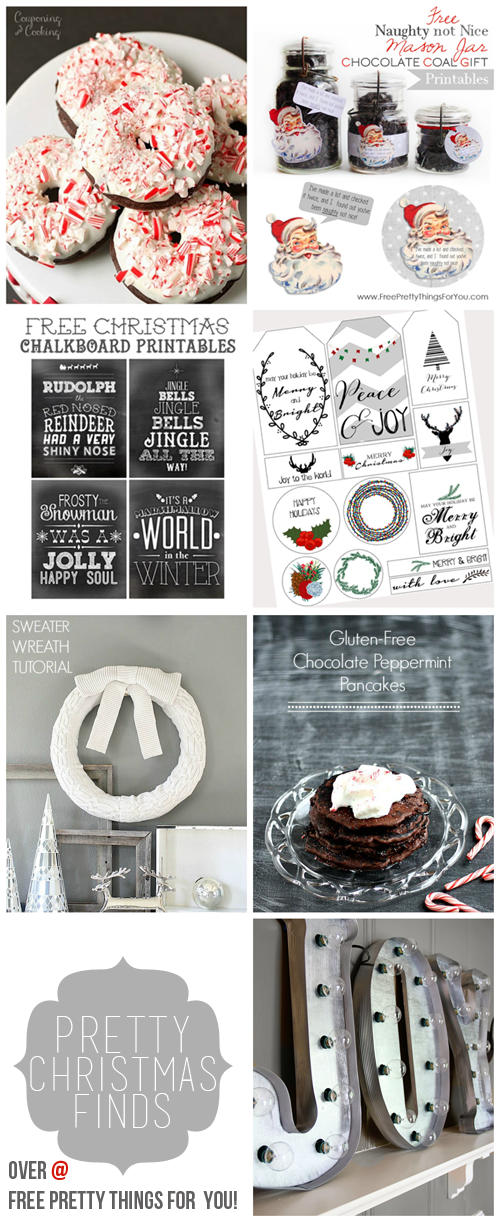 Next we have these lovely free Christmas Tags over @ The Grant Life! In her post she asks if it's normal to be this excited about gift tags? And the answer is, YES!! Yes it is, because free and pretty are always a good thing!! ;)
This homemade Sweater Wreath Tutorial, is another thing to be excited about! I mean, look at it!! It's just SO pretty, fancy and perfectly arranged!  Miss Design Dining and Diapers is also the genius behind these scrumptious Chocolate Peppermint Pancakes! If you haven't been to her blog, you should definitely hop on over and be ready to stay bit! :)
Now.. if you know me any, you know I am all over anything vintage inspired! What a gorgeous statement piece this DIY Vintage Marquee Letter makes! For less that $50, count me in!
Hope you are all enjoying this time of year! It comes and goes so fast. Make sure to relish every minute of it!
…………………………………………………………………………………………………………………
Be on guard. Stand firm in the faith. Be courageous. Be strong. And do everything with love.
1 Corinthians 16:13-14