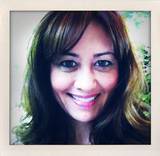 Hello fellow FPTFY friends! My name is Malia and I am a pal of Keren's. She is such an inspiration to us all, isn't she? So creative and generous! So I jumped at the chance to work on a holiday project with some of her fabulous art. Here's a fun little Christmasy gift bag you can pull together in no time at all.
Supplies: White t-shirt transfer paper, FPTFY Bluebird image (to transfer), canvas, Unique Stitch (fabric glue), glitter glue, glitter adhesive rhinestones, small burlap bags and an iron.
-To download the FREE Vintage Christmas Bluebird Image Click HERE–
Following package instructions, print the darling FPTFY bluebird image on the transfer paper.
Cut out leaving an 1/8 inch border.
Iron onto canvas.
Cut out rectangles with image.
Pull a few threads to give it that shabby look.
Using Unique Stitch, glue canvas to bag.
It's already cute but it's gonna get even cuter!
Brush some glitter glue on the blue parts of the birdie.
Add blue glitter, let dry and then do the white and yellow parts the same way.
Add a strip of adhesive rhinestones…
Then fill the bags up with little gifts or treats.
Merry Christmas to You!
Thanks for having me over, Keren!