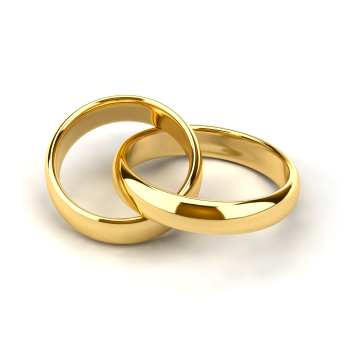 Planning a wedding requires nearly endless attention to detail, as well as a great deal of decision making. From finding a date and venue, to organizing the guest list, to picking out decorations, a menu, etc., the factors that go into creating a perfect wedding seem virtually limitless. This is why the planning process overwhelms so many people!
However, when you consider your wedding in a broader fashion – as a defining moment in your life, instead of simply a significant party – you may find that it is some of the smaller details of the planning process that matter most. For example, one of the most important decisions that you will make during the planning process involves picking out your wedding rings.
Your rings may not be part of the decoration at your wedding, and may not even be noticed by many of your guests – but they are still central to the wedding, and will be with you and your spouse for the rest of your lives as symbols of love and commitment. For that reason, it is very important to give some real thought to the ring selection process. And for that, it can't hurt to have a strong feel on some current wedding ring trends. Here are a few to consider.
Don't Worry About Matching
Many couples stress about finding matching wedding bands as they approach their wedding days. While it can certainly be nice to find rings that look nice together, the important thing is finding a ring that works well – in terms of both fit and style – for you as an individual. Realistically, your rings will not be looked at as a set very frequently, so it's okay to be more personal about picking out a wedding band.
Diamonds In Wedding Bands
One specific design trend that is becoming more popular is diamond set wedding rings. Typically this trend occurs with regard to the bride's ring (although there are some men's wedding bands with small diamonds in them), and is often used to match the wedding band to the engagement ring. Typically, a diamond set wedding ring will have three to five small diamonds set along its circumference, which can add a unique but subtle beauty and shine to a beautiful ring.
Alternative Metals
Finally, as you select your wedding bands, consider alternative wedding bands. White and yellow gold continue to be the most popular options, but more people are opting for other options such as rose gold, or even titanium or platinum. The metal you choose should reflect everything from your personal sense of style to how you live your life. For example, titanium is a popular choice for people who want rings that will withstand heavy wear but aren't cumbersome.
Ultimately, this choice depends largely on personal preference. But keeping alternative options like those listed above in mind can help you to broaden your selection to end up with the perfect set of rings for your wedding.