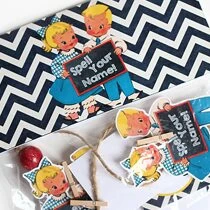 Last week, my little one and I  had the opportunity to meet up with 9 other amazing moms and kids to do our very first busy bag swap for ages 1-6! It was such a blast for both of us and each busy bag was filled with hrs of entertainment for her..and much needed free time for me :)

 Before this event, I had never heard of  "Busy Bags". Miss K from  Plants and Pillars explains it perfectly and also has links to all of  the moms that were at our Swap!
For my busy bags, I made this adorable Free Spell Your Name Bunting Printable! It includes the complete alphabet so you are able to choose the letters you need for each child and also some numbers if you feel like throwing them in there.

[showmyads]
Click each number above to downlaod
I did learn 2 very important things from this project.. 1. Even though those tiny little wooden clothes pins are too cute for words ..

Don't get me wrong.. If you are going to do a pretty bunting like this they work perfectly awesome and look insanely precious!
But ..for little hands that will be opening them over and over again ..the tiny clothes pins will fall apart and therefor cause some frustration in a prepreschoolers world. Soooo.. to avoid any unnecessary meltdowns for both parties  — note to self: use metal clips next time for Kids.
And 2. If you ever want an amazing printing job.. take your files to Staples. Their laser printers made a world of difference with my images!!   BTY- this is not a sponsored post for staples ;) I just adored how my prints turned out… plus it was cheap and they let me use my own card stock. Yay for that!
Can't wait for the next swap!
Happy Monday my lovelies!
xo,
Keren
ps.
A Big Thank You to Sahlin Studios for allowing use of their gorgeous digital chevron paper!
………………………………………………………………………………………………………….
Since God chose you to be the holy people he loves, you must clothe yourselves with tenderhearted mercy, kindness, humility, gentleness, and patience.
Colossians 3:12