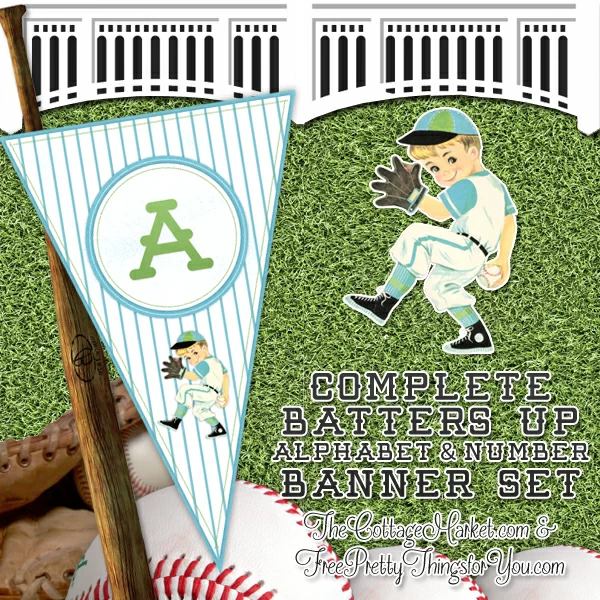 Hey Everyone! Andrea from The Cottage Market here!
Do you know what happened this week? Well simply put…Baseball is now in full swing. So to celebrate this 2014 season…I got together with my dear friend Keren from Free Pretty Things for You. We combined her fresh vintage little boy baseball player with a bit of The Cottage Market Banner style and I think we hit a home run! It's a complete set of Letters and Numbers and they are a nice large size so you can adjust to any size you would like. The other cool thing is…they are shaped like pennants…so if you just want to do an initial or monogram…it works for that too!…a bit smaller…perfect for a name or any thing you want to say! The colors are wonderful and both Keren and I really hope you enjoy this unique and special Free Printable Baseball Banner! Don't worry…we have a little girl banner set coming soon and I have a feeling some baby banners are on their way. ENJOY!

Just take out those scissors…punch 2 holes and begin to string…or maybe you would like to cut the banner pieces out and then a slightly larger complimentary scrapping paper and clip onto a hanging string with clothespins…the possibilities are endless! Don't forget we have over a dozen more printable banners waiting for you in our freebie section
For A-M and the complete set of number hop on over to my place to download and
[showmyads]
For N-Z and punctuation… click for the zip file download
Do you want a little closer look….check it out…

and in honor of Micky Mantle…

Well you now have everything to PLAY BALL!!!
Save your zip drives and you will have this adorable baseball banner at your fingertips. A banner made from these vintage fresh design would look great in a little boys room…perfect for a birthday party…and for many other fun and fabulous uses! We hope you enjoy this special creation.
(((((HUGS)))))