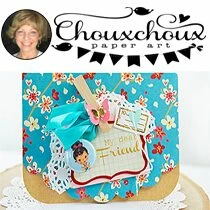 Hi Friends!! Today is an exciting day here at FPTFY! We are welcoming our newest contributor and I know you will all just adore her!
Please help me welcome the talented Miss Lori from

They're all yours Lori!
Hi FPTFY fans! Like Keren mentioned I'm Lori Hairston from Chouxchoux Paper Art and I am beyond thrilled to be here! I can't wait to share everything with you but first, I would like to tell you a little bit about myself – if you know most of this feel free to skip this part! I've always had projects going, but didn't really start in the paper arts until my daughter, Lauren, went off to college. She is the only child and one of those terrific children that you never want to go, so I had MAJOR empty nest syndrome. I had to have something to fill up that empty space. I know when I found paper crafting my husband, Dennis, was glad I found a hobby. Little did he know how big a part of my life it would become. I'm always busy: filling special orders, keeping my local business locations with inventory, and creating, creating, creating!!