In today's post, The Hungry Jpeg and Free Pretty Things For You are giving away a Free Bear Family SVG cut file collection for personal and commercial use!

Loving these Mama Bear, Papa Bear and Baby Bear cut files! Use them to create awesome family projects like T-shirts, mugs, totes, car decals and so much more!
Our Bear Family Collection is being sponsored by
The Massive Font Bundle $22!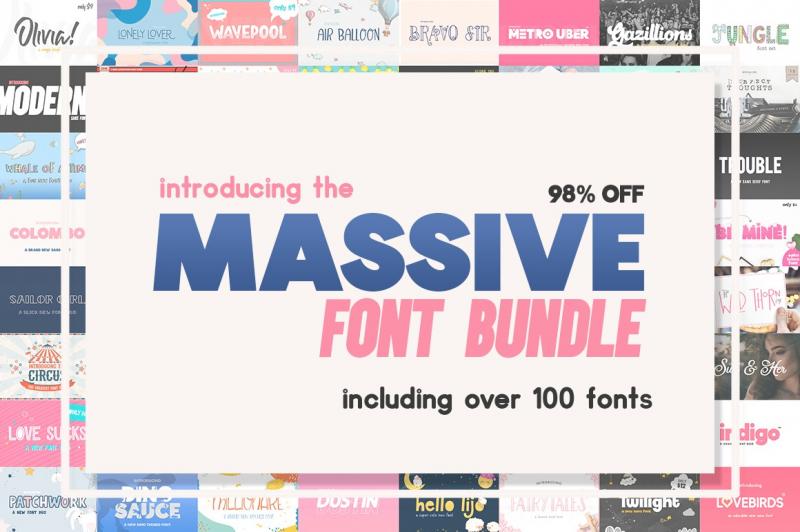 The Massive Font Bundle has arrived as we bring you this massive collection of fonts in collaboration with Salt & Pepper! With this bundle you'll get a total of 85 packs with over 100++ fonts, varying from adorable handwritten fonts, creative scripts, quirky sans serifs & many more! This is the bundle for every crafter and designer who loves collecting fonts of all types!

Usually priced at $752, but for only a month you can get it at a special price of just $22! That's 98% discount you shouldn't miss out on! Grab it now before it's gone!
Over 100+ Fonts for only $22??
I'm so in!! You can get it HERE while it lasts.
Keep scrolling for your awesome freebie!
And visit my Free Cut File Gallery here for more
freebies you will love!
Free Bear Family SVG
Since it is just such a sweet design … I don't think being a Papa, Mama or Baby bear will ever go out of style! I love the extra mountain feel the pine trees give it. You could also use different color vinyl if you wish to give it a different look.

• To Download Click HERE!