Ever wondered how to make your own stencil? In this post, I am featuring five ways on how to make your own reusable stencils!
Hello Crafty Friend!
Are you a fellow Stencil Lover ???? that wants to take it one step further and learn how to create your own? Well, you are definitely in the right place today!
But before I get started – Maybe you just landed here and you might be asking yourself – "Why would I want or need to create my own stencils??"
Awesome question pretty Lady or Gent ;)
Why? Because there are a ton of fun amazing projects you could create with stencils and maybe there is a particular or personalized design that you can't for the life of you find in your local craft store — So what do you do?! That is where knowing how to create your own comes to your rescue!
What to Make With Stencils
If you are also wondering or thinking of what you could really create with them — here are some project ideas to get you started.
You could stencil a pattern on:
Outdoor Rugs

Porch Signs

Place Mats

Pillows

Deck Floors

Curtains

Concrete floors

Furniture

Tote Bags

Cakes

Cookies

Latte Designs

Ceilings

Terracotta Pots

Plates

Windows

Phone Cases

Stairs

Walls

Journal/Bible Pages

DIY wrapping paper

Shoes

Face Painting
Using Stencils to create beautiful face painting designs is actually how I got into learning how to create my own stencils. But for you, it may be one of the examples above of why you are interested to learn ????
Make your own stencil material
When I first got started making stencils I was excited to find out you could create them with a lot of upcycled unconventional kinds of materials like:
Transparency paper

Old Silhouette machine cutting mat

Mylar sheet
???? I use these 7.5 MIL blank stencil sheets from stencilsonline.com (they worked well) in the past but I am sure you can find the same quality and amount for a lower price as I did here. I am excited to try it in 4 MIL since I've been reading such high reviews when using it on Cricut and Silhouette machines!
make your own stencil
With all that said, I am delighted to share the video that taught me exactly how to create my very own custom face painting stencils!
1. This video opened up a whole new world in my crafting journey and I hope it does the same for you!

If the above video wasn't enough for you — here area few more resource to help you move along your stencil making journey:
2. HOW TO MAKE REUSABLE STENCILS By persialou.com

2. HOW TO MAKE STENCILS WITHOUT A CUTTING MACHINE by sandandsisal.com
3. Make Your Own Reusable Stencil by astepinthejourney.com (She used blank stencil sheets from Hobby Lobby)

4. Making stencil with the Cricut by domesticheights.com

5. Using Cricut Stencil Vinyl To Make A Farmhouse Sign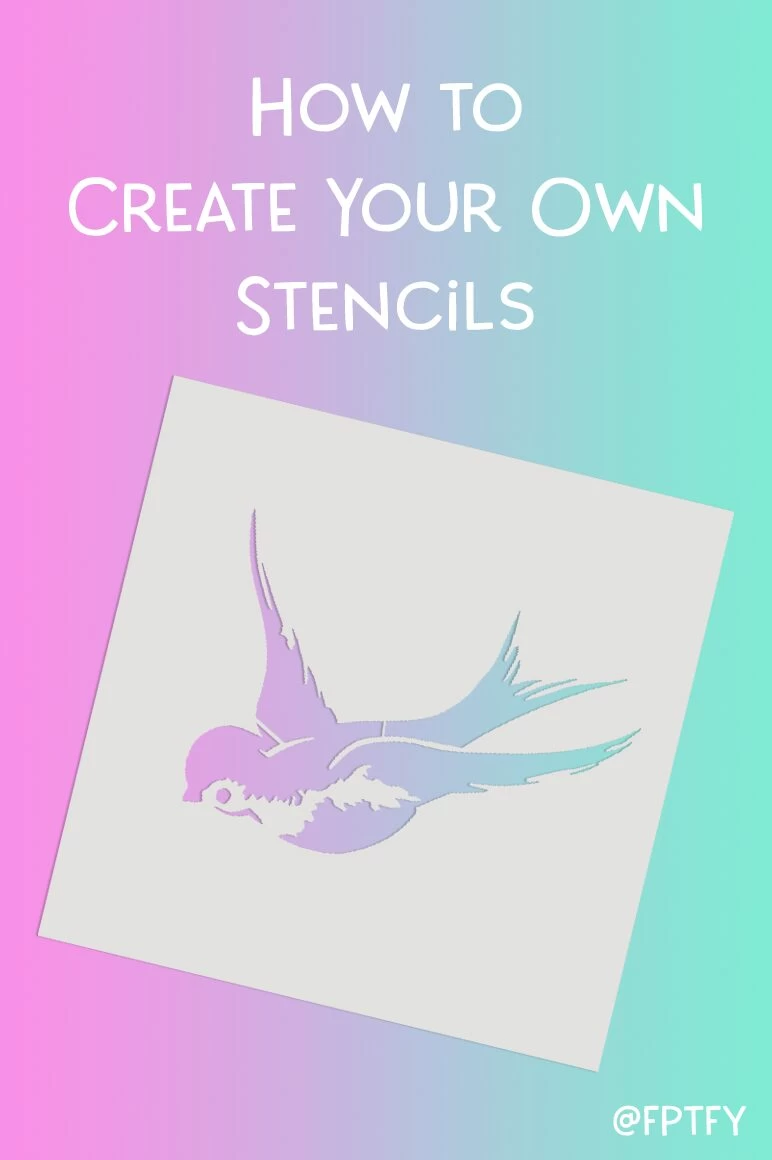 I really hope all of these tutorials helped you find your style and preference on how to create your very own reusable stencils!
Having a girls craft night would be a perfect way to get started on this easy craft technique and you could show all your girlfriends something new and fun they could easily do themselves! Happy Crafting! ????????