Non-overwhelming
Free Affordable Educational Resources
Hello Dear Friends..
In this difficult time we are all facing .. I've been going back and forth trying to figure out what I/FPTFY could do (besides creating free digital goods) to be an extra help and to serve you and your loved ones.
I already have a handful of ideas – but to start off – I thought this particular resources/round-up below would be an immediate help to parents that are scrambling to get some sort of educational plan going asap or just in need of some ideas on how to keep their kiddos busy while not falling behind on their academics.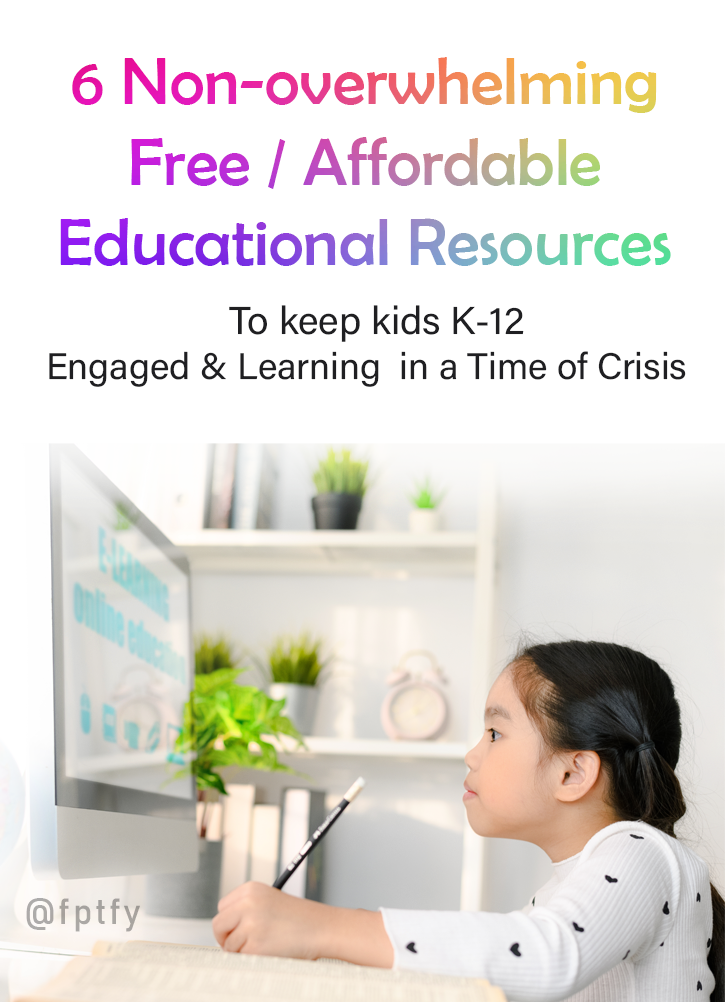 As a veteran homeschooler… I have researched a variety of curriculums and have tried pretty much every learning style there is. With that said.. I remember it was pretty overwhelming the first few years!
Unfortunately in this current crisis – overwhelmed parents – don't have the luxury of years to research and to figure out what works.
Having that weighing on my heart.. I kept asking myself… "If I was just thrown into this overwhelming situation .. What resources would I have loved to know about?!"
Hence, the following resources are non-overwhelming sites that can be easily implemented asap and that are Free, have a Free Trial option, Free Samples or are really really affordable :)
Also, please note that NONE of the links below are Affiliate or Sponsored links.
Free and affordable resources/subscriptions for remote learning and homeschooling due pandemic
Know someone this list would help?
Share it here on FB:

https://www.facebook.com/FreePrettyThingsForYou/posts/3859192924105828:0
I truly hope that this list encourages and helps in some way to further take some of the burden off of all of you hard-working loving parents/caregivers that are just trying to do their best at this moment in time.
I have SO much on my heart that I would love to share but for now, I'll leave you with these words directly from Yeshua .. These things I have spoken unto you, that in me ye might have peace. In the world ye shall have tribulation: but be of good cheer; I have overcome the world.
Remember Dear Friends… He never promised that life was going to be easy.. But He did promise that if our hope was in Him… He would always be with us and one day we would see Him Face to face. ????