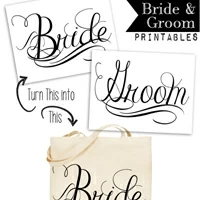 Any Brides to be out there? Here's a gorgeous set of free calligraphy inspired  Bride and Groom wedding printables, that could be used for making signs, totes, shirts, hoodies, mugs or anything else your pretty little head can think of!

To download Click Here for the Bride and Here for the Groom printable!
[showmyads]
Just in case  you have never transferred an image and don't know how to flip and image.. Here is a simple tutorial on how that's done.
Wishing you all a happily ever after!
……………………………………………………………………………………………………..
Whoso findeth a wife findeth a good thing..
Proverbs 18:22