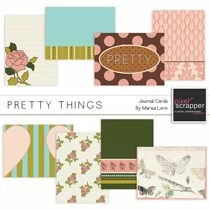 Hi everyone! I'm really excited for this chance to guest post here. Thanks again Keren for asking me and for running this great blog!
My name is Marisa Lerin and I'm a lover of free pretty things! My main hobby is digital scrapbooking, so I'm always on the lookout for great designs and opportunities to get them for free. But it wasn't long after I started digi scrapping that I become frustrated trying to find just what I wanted. There is no shortage of wonderful supplies on the internet, but finding them can sometimes be more difficult than it's worth, and I was also stumped about how and where to share my own designs as a beginner and then as a progressing designer.
To download these pretty Journaling Cards click image above!
To make a long story shorter, and jump ahead a few years to the present time, you can check out my dream come to life at www.pixelscrapper.com: a community site for digital artists and scrapbookers that offers an ever-growing collection of well-organized digital images and products. It has been a big labor of love for both me and my husband to bring this site to life, but when you love and believe in something, the work seems much lighter.
What keeps us going is our commitment to creativity and the thought that hopefully every day someone will visit our site and get that little boost of inspiration that they need to make the world a more beautiful place. You can read more about our vision in the Pixel Scrapper Manifesto.
But enough about big ideas! At Pixel Scrapper we also have lots of practical ways to help you get your creative on! Some of our offerings include:
The ability to choose your own freebies every day from our enormous collection, which grows daily.
Forums full of active, engaged members from around the world ready to help you with whatever you need, whether you're stuck for inspiration or just want to chat.
Tutorials to help you improve your digital designing skills.
Simple, sitewide licensing for both personal and commercial use.
In addition to our free daily download credit system, we have also just started to offer unlimited downloads to our members for a low monthly subscription.
If you need more enticement that Pixel Scrapper is a great place, I've created these pretty journal cards just for readers of the FPTFY blog. They coordinate with my new Pretty Things Bundle, which you can get for free by signing up for a free account at Pixel Scrapper (or you can choose any other kit that you'd like when you sign up–that's a thank-you gift to every new member).