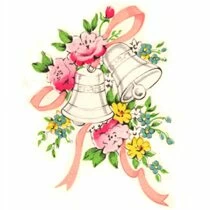 Hi everyone! Lori here from Chouxchoux!

Today is my first contributor post for Keren
and I'm so excited to be sharing with you creations featuring one of her
free vintage images!



Keren's  blue and pink wedding bells are beautiful and do a fabulous job of wishing new (and couples who have been married a while) well.


I just love this sweet little card and all it's layers.  It features the Blue Ribbon Wedding Bells image.  It also features items from the Make Mine Gold kit.   I think this would be a lovely way to write a personal note to a daughter who is getting married or perhaps, to a daughter-in-law to be. 
Kirby, one of my office team members at work, special ordered an anniversary card for his wife, Gail.  When Keren showed me the wedding bells image, I thought it would be perfect to create an anniversary card. 
Even though typically wedding bells would be used for a new couple, I think the pink version made a nice anniversary card for Kirby to give Gail.I used a tiny gold tag to highlight their 37 years.
Would you like to have both wedding bell images for your creations?

• To download the Blue Ribbon Wedding Bells click HERE!
• To download the Pink Ribbon Wedding Bells click HERE!