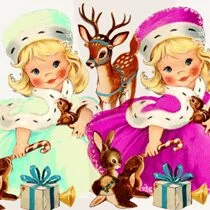 Hello Friends! Its Lori and we are glad you've dropped by for the first day of Christmas in July!  It's a little too warm for hot chocolate by the fire, but not too warm for three days of fun Christmas projects. Maybe the thought of Christmas will cool me off a bit – we are having a 100 degree day today! You probably all know by now that Dennis and I (and Lauren when we visit her in Wichita) prowl the antique stores.  I found a darling HUGE vintage Christmas coloring book with Little Miss Christmas on the cover.  I sent her to Keren she worked her magic!  Now we've got three different Little Miss Christmas images.  Her dress was originally red and Keren also made her available in White / Light Blue and Magenta.  You can find a link below to download all three.

I love the white version and I wanted to put her on a little something other than a card.  So, I designed this fun little house just for Little Miss Christmas and her sweet animal friends.
Would you like to make your own little Christmas house gift box?
[showmyads]
-Click here for the magenta image
– Click here for the light blue image
-Click here for the red images
Will Post the Red image on tomorrow's post!

AND….We can't have Christmas in July without a present.   One lucky reader will win the following by random selection:

There's a cute fox stamp and a set of sentiment stamps.  Also some Stampin' Up goodies:  Banner Blast stamps, Banner Blast punch, 2 Border embossing folders, and a set of Stampin' Write markers.  I will also include a KIT for the Little Miss Christmas House.  It will come with everything you need except for adhesives.   It's easy to win.  Just leave me a comment letting me know that you would like to receive my Christmas present.  AND come back Tuesday and Wednesday and comment on those posts, too!   In other words, comment on all three Christmas in July posts.   I will announce the winner on Saturday, July 20th.  Please comment on all three posts before 11:59 p.m. on Friday.  Come back on Saturday to see who won.  Especially check back if you don't have a blog and your email address is not on your profile.  It makes it a little hard to find you!  

Check out my new Choux Box Kits Club on the page tab at the top of my blog.
Merry Christmas (in July)!  See you tomorrow…

New to FPTFY?!
Welcome! So lovely to have you! Grab yourself a cup of something yummy, sit back and have a look around. There are tons of vintage graphics, artwork, papers, tags, art, school printables, holiday graphics and party collections. We even have Etsy Collections and much much more! There are so many things that you can create with our vintage palette of graphics. I love to pick out a favorite image and transfer it to a pillow or a tote bag for the market or to carry the kids library books in. My go to gift is designing a cool new t-shirt; who doesn't love a personalized custom t-shirt?! Looking for projects that are under 30 minutes? How about coordinating a blend of graphics to make special tags for gifts, organizing baskets, pantry labels, craft room stickers ..the sky is the limit! Need a banner for your blog or how about a Facebook cover? We have those too! Does the kitchen need a little touch of art or does the Nursery need a bit of whimsical vintage graphic wonder? Here at FPTFY we have you covered. You will find the perfect look for you, your family, friends and the perfect graphics to create accents for your home decor. Are you a scrapper? If your answer is yes, you are going to love our digital scrapbooking elements, digital scrapbooking paper and I am sure you will adore the Project Life Collection along with the extensive collection of clip art. FPTFY is full of fun and fanciful graphics that put the P in Pretty, the C in Cute and the F in FUN! So, if you are looking for a special piece of clip art, a stationery set, encouraging quotes or just a pretty image to create a handmade card you are in the right place. Don't forget that new creations are being added on a regular basis here, so check back often! Thanks for dropping by and hope to see you again…always overjoyed to see you.
P.S.
Have more questions? Visit my F.A.Q Page.. Can't find a specific image or project? To make things a breeze, I have carefully categorize all DIYs and images into thumbnail galleries for you to find everything at a glance.


For more of my work Visit my Digital Shop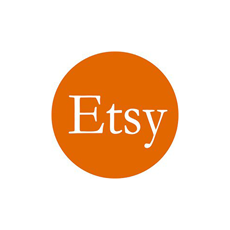 Terms of Use: Please refer to this page.