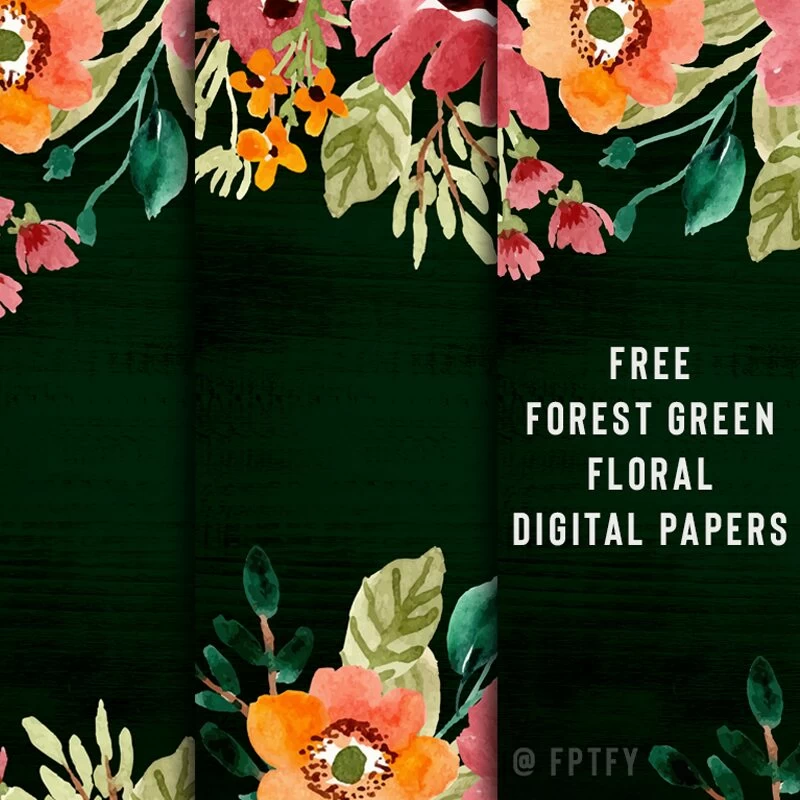 In today's post, I am giving away four fall-inspired floral digital papers – The collection is called Free Autumn Floral Scrapbooking Paper and it is available for personal or commercial use.

Free Fall Digital Paper
When I see leaves slightly turning color and the air goes from humid to a crisp refreshing breeze, (literally overnight) I get the happiest feeling. Why? Because I know I get to start posting lovely autumn colors, patterns, and texture that make you feel all warm and cozy!


Oh! Also, not having to deal with irritating mosquito bites that drive you crazy is also a huge plus. Can I get an Amen to that?!
Digital Scrapbooking Paper Freebies
I designed this collection with a beautiful dark forest greenwood background and lovely fall-colored flowers and foliage. The flowers are positioned in different places for you to choose and decide where the best placement of your text should be.
– As you can see these papers are very dark. Therefore, achieving beautiful prints is doable but darker prints obviously use a lot of expensive ink. My favorite printer takes care of that problem.
You can use them for:
Pretty quote graphics for social media

Sale announcements shoutouts

Resize them to make handmade card or tags

Download Your Autumn Floral Scrapbooking Paper Collection
I hope these pretty autumn digital papers start getting you excited for this fast-approaching fall season :)
• To download instantly click HERE!
By the way, if you missed it, you can find my favorite Economical Ink Printer here –
[mv_create title="Autumn Inspired Scrapbooking Papers" key="3″ type="list" layout="circles"]