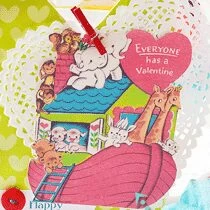 Hey There! It's Lori from ChouxChouxPaperArt.com! Excited to be here aging to share another fun and pretty card design with you !There are so many cute Noah's Ark things out there.  Charlotte (my daughter's niece) has a cute stuffed one and a Little People Ark, too.  One of my favorite books when I was little was Noah's Ark and I had a fabric one as a baby.   When I opened the email from Keren with this darling Valentine, Kitty got scared!  Why?  Because I squealed like a little girl,of course!  It just couldn't be any cuter.  Keren and I are happy to bring this free image to you today.


Of course, the animals are in pairs and I started thinking about Two by Two and came up with an animal matching game to go along with the Noah's Ark.  I found the perfect animal stamps at Dorky Prints.  There are 6 adorable little animals.  So easy to print and cut into cards.  I printed them onto 110 lb. paper.

For the full tutorial and to grab the Free Image, head on over to this post!
P.S.
A couple of other fun ideas for this project would be to change it into a birthday present or use it for a Sunday School class.  I think it would work well for both.  
I also have the Two by Two Matching Game tag available.
 It's printed in a blue square so that you can die cut it into any shape you want. You could also  Download it over at my place!
So glad you stopped by – have a wonderful week!
P.S.S.
For more Vintage Images click here!