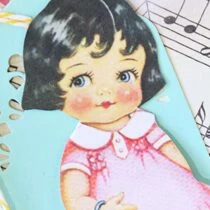 Free Vintage Paper Doll Images:

Keren (Free Pretty Things for You) and I are bringing you a darling vintage Paper Doll image along with her clothes!  I was lucky enough to score this paper doll and her clothes not too long ago.  Keren changed up the clothes' colors, so we've got the original set plus the new set available for you.  The paper doll's in great shape – the only thing is that some sweet little girl wrote her name on the front of her slip – but that just makes her all the better!  
I'm always drawn to paper dolls because my mom loves them.  One of her favorite things was playing with paper dolls.  I made one of these projects specifically with Mom in mind.  
First up, is the card featuring her oh, so sweet pink dress:

I fell in love with the kitty buttons and had to have them.  (You can find them HERE.)  Hard to tell in the photo, but her dress is attached to her by only the tabs on her back, so it looks like someone just slipped on her dress.
Now, this is for my mom:

She's just a little "sweet nothing" for mom to set on her desk to enjoy.  I've got some tips for you if you'd like to make something similar:

Print paper doll at 5″.  Now, you want her to be VERY sturdy.  You could print 3 more of her, cut them out and stack them.  What I did was trace her onto scrap 110 lb cardstock.  The base will also need to be sturdy.  I used three 110 lb circles.

Glue two of her layers to her and save the third one.  Make the stand from sturdy cardstock.  The base isn't quite 1 1/4″ across – it's the width of her feet.  Glue her feet about 3/4″ down on the stand.

Score the stand underneath her feet and cut to fit her legs.  Glue the last layer on the back of the paper doll covering the stand.  
Then make the slits as indicated above.  The stand will slip into the slit base.  Start with 1 1/4″, you made need to make it a little longer.  Tip:  Angle the corners of the stand to easily slip into the slit.  Glue the other two base circles covering the stand.  

One last thing to make sure she stands steady on her base:  Put a little bit of hot glue under the tips of her shoes and hold them in place until dry.  Before you add the hot glue, make all the changes to the paper doll that you want to do.  For example, tie the ribbon around her waist and add button, etc…  That way you won't tear the hot glue from the paper while you work.  (Yeah, I did that!)  You could stop right here (see top picture) or you can go on to adding other embellishments and placing her on a block or large spool.   (If you would like to do a rosette and don't know how – just go to YouTube, you'll find lots of videos.)
Okay, I'm trusting you to be gentle with me on this next one!

I hand lettered the sentiment!  Yes, it has a couple of "oops!" places. but it was FUN!  I watercolored the background and the hearts.  (Inspired by Lori at Elvie Studio.)


Download Paper Doll with Original Clothes Visit Me HERE!
[showmyads]
to download Paper Doll with New Clothes Click HERE Directly!
Have fun creating with this darling paper doll.  So glad you stopped by and have a wonderful week!

Enjoy!
……………………………………………………………………………………………………………………
But if we walk in the light, as he is in the light, we have fellowship one with another, and the blood of Jesus Christ his Son cleanseth us from all sin.
New to FPTFY?!
Welcome!  So lovely to have you! Grab yourself a cup of something yummy, sit back and have a look around. There are tons of vintage graphics, artwork, papers, tags, art, school printables, holiday graphics and party collections. We even have Etsy Collections and much much more! There are so many things that you can create with our vintage palette of graphics. I love to pick out a favorite image and transfer it to a pillow or a tote bag for the market or to carry the kids library books in. My go to gift is designing a cool new t-shirt; who doesn't love a personalized custom t-shirt?! Looking for projects that are under 30 minutes? How about coordinating a blend of graphics to make special tags for gifts, organizing baskets, pantry labels, craft room stickers ..the sky is the limit! Need a banner for your blog or how about a Facebook cover? We have those too! Does the kitchen need a little touch of art or does the Nursery need a bit of whimsical vintage graphic wonder? Here at FPTFY we have you covered. You will find the perfect look for you, your family, friends and the perfect graphics to create accents for your home decor. Are you a scrapper? If your answer is yes, you are going to love our digital scrapbooking elements, digital scrapbooking paper and I am sure you will adore the Project Life Collection along with the extensive collection of clip art. FPTFY is full of fun and fanciful graphics that put the P in Pretty, the C in Cute and the F in FUN! So, if you are looking for a special piece of clip art, a stationery set, encouraging quotes or just a pretty image to create a handmade card you are in the right place. Don't forget that new creations are being added on a regular basis here, so check back often! Thanks for dropping by and hope to see you again…always overjoyed to see you.
P.S.
Have more questions? Visit my F.A.Q  Page.. Can't find a specific image or project? To make things a breeze, I have carefully categorize all DIYs and images into thumbnail galleries for you to find everything at a glance.


For more of my work Visit my Digital Shop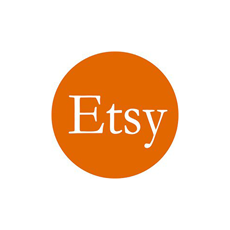 Terms of  Use: Please refer to this page.